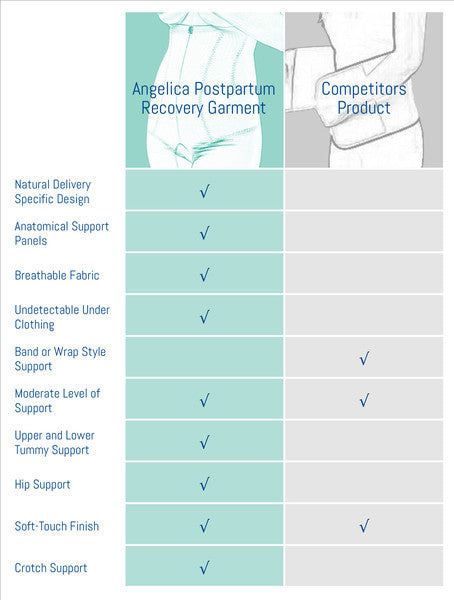 Shopping for post pregnancy shapewear? Then you've likely realized that you have plenty of options. After all, department and discount stores are lined with new and trendy shapewear that's designed to give you that curvy-held-in look. But if you've just given birth, those everyday shapewear products fall short of what you actually need. Here are some of the reasons new moms need and deserve
a post pregnancy support garment
designed specifically for their bodies.
Shapewear only provides a single level of temporary shaping support
From celebrities to brides, shapewear has become the go-to undergarment for women who want to look and feel their best. These body shapers are designed for temporary all-over compression to slim the appearance of the waist, hips, thighs, and buttocks. Whereas our post pregnancy shapewear retains its stretch memory, allowing for consistent support. And while shapewear is perfect for slipping into that little black dress, it's not ideal for the post pregnancy body recovering from labor and delivery. In fact, all-over compression can be downright uncomfortable, especially with sore muscles, swelling, and
C-section
incisions.
Shapewear can feature scratchy, uncomfortable fabric
Nearly every woman knows that most high heels are designed to make you look good—not to make you feel good. The same goes for traditional shapewear garments. These products make you look thinner, but they often feature fabric that doesn't breathe well, hampering the healing of a post pregnancy incision site and overall comfort for long periods of wear. It might also feature material that is scratchy and irritates the skin, or worse yet, a
C-section
or
Episiotomy
scar. You may be feeling enough discomfort post pregnancy—you don't need to add further discomfort with your choice garment choice.
Shapewear often pulls on areas that are sensitive
Any woman who has experienced a C-section delivery will testify that their wound and scar can be especially sensitive and uncomfortable in the days and weeks following birth. One of the biggest problems with ordinary shapewear is that it's typically pulled on over the abdomen, making it potentially painful for a woman recovering from a c-section to put on or take off. 

Body After Baby maternity belly support bands are designed specifically for your post pregnancy support needs
Caring for an infant is remarkably action-packed. From trekking stairs for diaper changes to doing yet another load of baby laundry, those activities take a toll on moms recuperating from a vaginal delivery or c-section. These are needs regular shaping undergarments simply can't address. But our Body After Baby support garments are different; we incorporate features that allow for continual support, comfort, and benefit. Our post pregnancy support bands provide gentle and healing compression support, anatomical support panels, a breathable and super-soft fabric, antimicrobial and latex free fabric, and the easy-on/easy-off design that recuperating moms appreciate. And, after your body is healed, we offer a Postpartum belly band style that provides extended compression support for the abdomen, hip, and lift for your buttocks. Designed to address your physical appearance, helping you look better and reclaim your body after baby.

We've worked with leading doctors, nurses, and moms to develop our post pregnancy support bands that deliver three things every new mom needs:
Much-needed relief from the back pain and sore muscles many new moms feel. 

Support to allow the body to heal naturally from a vaginal birth or c-section delivery.

Body contouring that assists with skin retraction and tissue shaping. 
Don't settle for ordinary shapewear
As a new mom, you deserve a proper support garment designed for your unique post pregnancy needs. Learn more about how our Body After Baby belly band support garments will help you recover from delivery and get your body back to its pre-pregnancy form.
What Support is Right For You ?